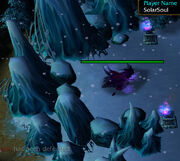 Typhon is one of the Eidolon Boss for Eidolon Challenge. He is located north of Snowy Mountain region, you can only go there when Destroy Hashmalum quest is obtained. He is second strongest boss in Eidolon Boss.
Typhon's Stats
Edit
Typhon's Ability
Edit
Battle Skill(Critical and Evasion)
Ad blocker interference detected!
Wikia is a free-to-use site that makes money from advertising. We have a modified experience for viewers using ad blockers

Wikia is not accessible if you've made further modifications. Remove the custom ad blocker rule(s) and the page will load as expected.