Omega Weapon is released after defeating Ultima Weapon. He's inside the portal that Shinra opens. Omega Weapon is one of the strongest bosses of FFEPRG.
Awards the "Badge of Omega" a vanity buff that provides the user with no additional stats; but rather, serves as a trophy of sorts for defeating this enemy.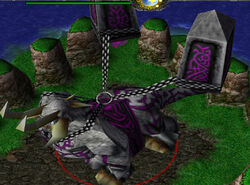 Omega Weapon Stats Edit
Level: 98
Attack Type: Demon
Damage: 2,011-2,025
Armor: 398
Str: 2,000
Agi: 2,000
Int: 2,000
3,000 Gold
3 Crystal Shards
1 Blood Ether
1 Ice Skull
Sometimes Can Drop Ice Armor, Greater Nectar or Any Random Item
Skill Set Edit
Flare 1 target 4000 + 3500
Thundaga multiple target in line 4000 Or 5000
Omega Bolt 1 target 9000 and stun move x6 sec
Rain Of Rocks Greens multiple target in mid area 2600 or more for any rocks that hit you. Max Damage 35000 or less
Spells against Omega Weapon returns damage back to the attacker based on which job you are when trying to beat him. NOTE: This Damage Is Job Scaling. The Lancer's Jump ability for example might cause the Lancer to instantly die because of the damage return.
Tips When Playing Solo Edit
1-Using The Monk Skill "Avatar Of Amarant" Gives The Player Spell Immunity.
2-Be Careful When Using Tonberry Materia And Phophet Divine Intervention As They May Damage You Too.
3-Diablos Materia can considerably reduce Ultima Weapon's HP.