For more battle arena fighter, see Battle Arena, or the Bestiary section of the navigation template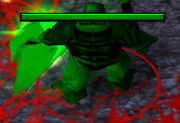 Description
Edit
Mega-Tonberry is an Arena-only boss who is extremely difficult. He has 32938-35007 damage, and 250000 base HP.
Ability's
Edit
He has Everyone's Grudge, the most famous Tonberry spell, that deals 100 X (kill count), heals for 50 X (kill count), slows your move speed dramatically, increases his movement speed. Everyone's Grudge is automatically used when his mana bar fills up. He also have Lamp, which increases sight range, have Critical Strike (20%, 2x), and he have Resistant Skin.
A recurrent team's member
Edit
Mega-Tonberry is a member of the team Sub-Bevelle Guards, Deadly Karma, and Last Illusion Masters.
Tonberry Materia will not work on it, so the best way of killing it is probably fighting with low kill count, or using Odin.
It takes about 100 seconds for Tonberry's mana bar to fill.
Ad blocker interference detected!
Wikia is a free-to-use site that makes money from advertising. We have a modified experience for viewers using ad blockers

Wikia is not accessible if you've made further modifications. Remove the custom ad blocker rule(s) and the page will load as expected.