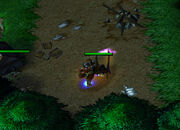 Elmdor, the Corrupted Samurai is a quest boss after obtain Kill Elmdor from Biggs. He is located west of the Northern Mountains teleporter with some rock chunks blocking. As for new adventurers, beware of his Katanasoubi(Blade Fury) ability.
Elmdor's Stats
Edit
42 - 64 (+30) Normal Damage
Elmdor's Item
Edit
Elmdor's Ability
Edit
Elmdor's Drop
Edit
He will always drop his Fake Masamune weapon.